AIESEC: GLOBAL CITIZEN HIGH SCHOOLS
Opublikowano: wtorek, 07, październik 2014 10:04
AIESEC: GLOBAL CITIZEN HIGH SCHOOLS
ALESSANDRO at I Liceum Ogólnokształcące im.Jagiełły in Krasnystaw
Our guest comes from Catania in Sicily , sounds exotic!
Day 1 - Monday 29 th Sept 2014
10 o'clock - the beginning of the classes: 2d, 1a, 3c, 3e
Everybody can speak a little Italian now: 'prego', 'buongiorno', 'grazie', 'arrivederci', 'ciao' and 'ciao ciao'!
13:30 a lovely dinner and welcoming at the dormitory
Volleyball match, shopping , Polish – Italian late night peace talks at the dormitory;)
He has so many Polish friends now: Magda, Ania, Dorota, Rafał, Wojtek, to name just a few (pupils say they have started thinking in English!!!).
Suddenly you come to think how many Italian traces we can track down in our town: Palermo pizzeria, 'Coloseum' kebab place, 'lody włoskie', fiat 126p!
They have the Etna – the live volcano in Sicily !
Alessandro's experience in Poland : fantastic 'pierogi ruskie', and Polish hospitality
He says we are the best school he has visited!
He was also treated to:
joguś pitny (drinking yogurt from OSM Krasnystaw),
śliwka nałęczowska (dried plum in chocolate – a traditional sweet),
prince polo (chocolate wafer),
lubelskie miętowe (chocolate-mint candies), and
' Cisowianka 'mineral water!
Day 2 – Tuesday 30 th Sept 2014
9:00 – classes with 1b, 3b, 1c, 2b, 3a (sooo many students)
A Piano lesson at the town's Youth Culture Centre (known to us as MDK)
Has tried pizza from ' Palermo " – says it's good!!!
All Boys' Day at the dormitory!
More late night talks!!
Day 3 – Wednesday 1 st Oct, 2014
9:00 – classes with 1b, 2a, 2b, 3d, 3e
After lunch – visiting the region: a short trip to the Dairy factory 'OSM Krasnystaw' , the ruins of the Krupe castle , catching the glimpse of the sugar plant 'Cukrownia Krasnystaw'
KRUPE CASTLE with a view over the pond, beautiful, isn't it… Our guest was impressed too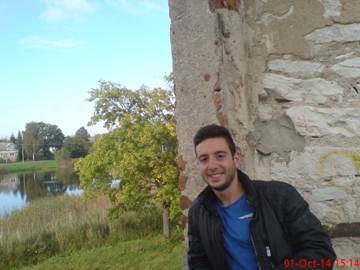 The Dairy Factory OSM Krasnystaw (apart from its great produce there is a really nice lady in the marketing department – thanks for the bag full of gadgets)!!!
Alessandro with the products that we take pride in…
And this tall building – the milk powder production building was made by Italians in 1970's – one more Italian hint in our town…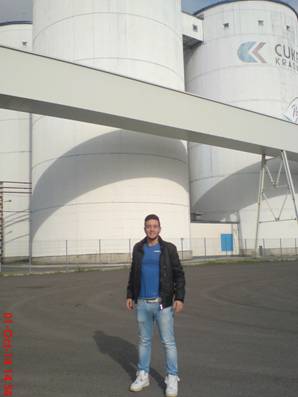 And here sugar is made, a lot of sugar…
After visiting the region…
The second volleyball match and another beautiful night at the dormitory.
Day 4 – Thursday 2 nd Oct, 2014
9:00 – classes with 1c, 2d, 2c, 3c, 2a.
Alessandro's report:
After lunch – visiting Zamość with the girls from 3b.
Later - party with the guys from 2d and 1c.
Another amazing night at the dormitory and another amazing day with all of them.
Day 5 – Friday 3 rd Oct, 2014
9:00 classes with 1a, 2c, 3b, 3a & 3d.
Lunch and come back to Lublin . ;(
A lovely view of the town and its hospitable and enthusiastic young citizens!
To sum up:
"I am very happy to have spent one week in this school. I want to say 'thank you' to everybody because all of you did something for me; thanks to the teachers (Renata and the other English teachers), thanks to every class for their attention, thanks to all the guys from the school and a special thanks goes to all the guys of the dormitory because they spent all their time with me and we did a lot of things together. Thanks to the headmaster and thanks to all the people of this city.
It was an amazing week and I'll never forget you.
I am sure I'll miss all of you.
Have a beautiful life and don't forget always to be happy! J
(I don't remember all your names but everybody did something for me and every person was very important during this week) J
Alessandro Circo
Alessandro, many thanks from us to you!!! Catania with Etna and Alessandro will definitely become even more popular now among Polish people, especially these from Krasnystaw!
Renata Lewandowska